Reconditioned Engines
We have been dealing with reconditioning Triumph engines for over 25 years, so we have by now acquired an idea of what works and lasts and what may not do.
I

f you are in the market for an engine its best to email us with your requirements and we will be able to quote and help. But below are some general pointers and answers to frequently asked questions.
I

f possible we would prefer to recondition your own engine. We are able to collect your engine (and deliver it back when we have finished).
Sometimes it isn't possible to rebuild your engine if, for example you don't have one, (or your engine proves on examination, or you already know, that is not rebuildable). Further details on this below.
Unless advised otherwise we would re-build your engine to factory specification if possible (with the exception of conversion to unleaded). We can, at additional cost, upgrade to fast road specification and balance/blueprint and may be able to perform other enhancements on request.
In terms of timescale we are never able to recondition an engine in less than 4 weeks, and in busy periods it may be longer. We don't have rebuilt engines ready to ship, they are always built to order.
Engines are sold complete meaning everything from the rocker or cam cover down to the sump is supplied. But the price does not include engine ancillaries such as starter motor, distributor, manifolds etc.
Please email us for pricing with full details of your car and we will get back to you with an exact price. As a guide:
4 cylinder OHV engines of capacity 948/1200/1300/1500 start from £1900

6 cylinder OHV engines from £2350

4 cylinder OHC engines from £3050

8 cylinder OHC engines from £4800
What do you do to your engines?
Our reconditioned full engines have one of the highest rebuild specifications available on the market. Please contact us for further details concerning your model. All engines are built to FER specification and have 12 months warranty.
Do you supply instructions? Yes we supply specific instructions for post fitting tests, adjustments & running in procedure. We don't supply fitting-to-the car instructions - you would need experience or a manual.
How can I know if my engine is rebuildable?
Sometimes this is obvious, eg if the block has been pierced by a con rod, but its not always obvious from an external inspection. Reasons why engines are not rebuildable include: cracks discovered under the UV light test, having been rebored to the point that there is not enough meat on the block to rebore again, the crankshaft worn through the thrust washers to the point where it has eaten into the block. It is unlikely that both the head and the block are unusable and in this instance we will try to supply or source a replacement unit.
How do I know what engine I have fitted, I'm not sure its the original one. See here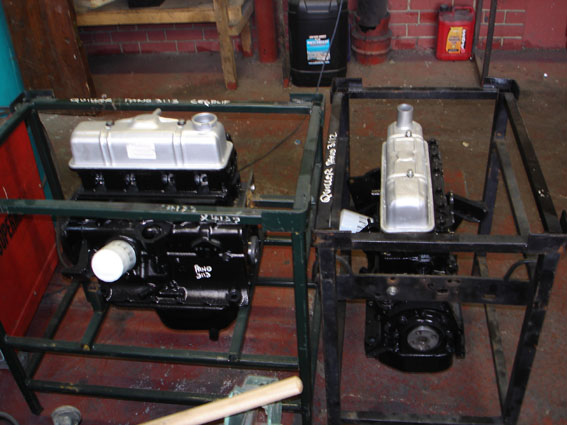 Used Engines

We may be able to supply a used (second-hand, totally un-rebuilt) engine, depending on model.
Please get in touch for a quote on price and availability (please note that we can never supply secondhand TR2/3/4 or Stag engines as we rebuild all of these that are rebuildable)
Used engines will exhibit wear, they are likely to burn and/or leak oil, will display some degree of endfloat, compressions are unlikely to be optimal, bearings and bearing surfaces will display wear, as will all pump vanes etc. They are sold as requiring complete reconditioning - we only ensure that the cases are not cracked. We do not grade used engines with regard to good, bad or indifferent or in any other way (to do so would require dismantling and examination...which is half way towards reconditioning). We would advise you to purchase a used engine only if you plan to overhaul it, as the condition is unknown.
Do you know the mileage of a used engine?
No sorry we don't. Even if we were to see the speedo of the vehicle the engine came from this is no indication of the mileage of the engine.

For more details on this see here
Can you deliver an engine?
Yes no problem, get in touch for a delivery quote
Yes, by appointment. However engines are mounted on pallets so you would need a vehicle capable of taking a pallet and being loaded by our forklift (ie a van).